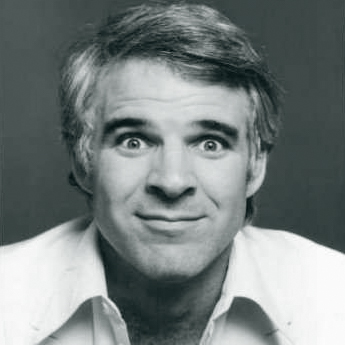 Writer
Steve Martin
Bio
Stephen Glenn Martin (born August 14, 1945) is an American actor, comedian, writer, playwright, producer, and musician. Over his distinguished career he has earned five Grammy Awards, a Primetime Emmy Award, and was awarded an Honorary Academy Award at the Academy's 5th Annual Governors Awards in 2013. Among the many honors, he has received the Mark Twain Prize for American Humor, the Kennedy Center Honors, and an AFI Life Achievement Award. In 2004, Comedy Central ranked Martin at sixth place in a list of the 100 greatest stand-up comics.
Martin came to public notice in the 1960s as a writer for The Smothers Brothers Comedy Hour, and later as a frequent host on Saturday Night Live. In the 1970s, Martin performed his offbeat, absurdist comedy routines before packed houses on national tours. Since the 1980s, having branched away from comedy, Martin has become a successful actor, starring in such films as The Jerk (1979), Dead Men Don't Wear Plaid (1982), The Man with Two Brains (1983), Three Amigos, Little Shop of Horrors (both 1986), Roxanne, Planes, Trains and Automobiles (both 1987), Dirty Rotten Scoundrels (1988), and L.A. Story (1991). He has also starred as the family patriarch in Parenthood (1989), the Father of the Bride films (1991–1995), and the Cheaper by the Dozen films (2003–2005). Martin also portrayed Inspector Clouseau in the Pink Panther remakes. In 2009 he starred in Nancy Meyers's romantic comedy It's Complicated alongside Meryl Streep and Alec Baldwin.
Martin also is known for writing the book and lyrics to the musical Bright Star (2016), and the comedy Meteor Shower (2017) both of which premiered on Broadway. While he has played banjo since an early age, and included music in his comedy routines from the beginning of his professional career, he has increasingly dedicated his career to music since the 2000s, acting less and spending much of his professional life playing banjo, recording, and touring with various bluegrass acts, including Earl Scruggs, with whom he won a Grammy for Best Country Instrumental Performance in 2002. He released his first solo music album, The Crow: New Songs for the 5-String Banjo, in 2009, for which he won the Grammy Award for Best Bluegrass Album.
Credits
Writer
Alchemy Theatre
2019
---